Dear Ladies and Gentlemen,

For a stable and reproducible analysis of Machine Vision applications, an optimum lighting situation is critical. A range of accessory components allow flexible adjustment of the light direction to the most diverse requirements.
Lens kits, diffusers and fresnel lenses enable individual adjustment of the lighting to the working distance and object field.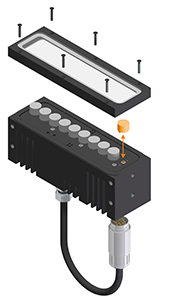 Today, we would like to introduce you to our lens kits and the lens exchange option that comes with them, and provide you with a handy tool for calculating the optimal illumination area for your applications.

Since the lenses in front of the LEDs can be swapped out in LUMIMAX® High Power LED Lighting, the lighting setup can be adjusted to meet a broad range of requirements:
Lighting with a tight beam angle: bright illumination of objects from several meters away
Lighting with a broad beam angle: homogeneous lighting even at shorter distances, while also providing high-intensity lighting for larger objects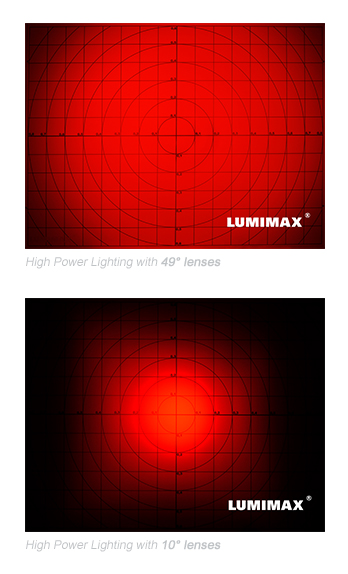 Flexible LUMIMAX® High Power LED Lighting
All LUMIMAX® High Power LED Lights have the lens exchange option.

For large working distances and strongly absorbent objects, High Power LED Lighting is especially suitable. Very high intensity LEDs, combined with integrated controller and performance electronics guarantee luminous intensities of well over 1 million lux in flash operation and offer excellent lighting for the objects under inspection – even at a working distance of several metres. Extraneous light sources are suppressed.

The Lens Kits are available for the following product series:
The LUMIMAX® High Power Spot 5W has an adjustable precision optics. This allows a very flexible adjustment of the radiation characteristic to the required working distances and image fields, enabling a focused or very homogeneous illumination of the object to be inspected.
Furthermore, with the C-Mount connector - available as an accessory - lenses for focusing can be used.