Dear Ladies and Gentlemen,

In our previous issue, we discussed wall thickness measurements with a focus on the measuring direction and procedure for the measurements: ► to the newsletter 02-2019

In this newsletter issue, we would like to grant another brief insight into the international standard for cable measurement IEC 60811-201/202* - in particular for the measurement of wall thicknesses and the location of the smallest wall.

If you take a closer look at the prescribed measuring methods, the following questions frequently arise for the reader:
What are these approximate 60°?
How can this be standardized?
What influence does this have on the measurements and for conventional manual measuring methods?
The basic idea: For the determination of the actual smallest local wall thicknesses a fixed specification of the distances (exactly 60°) is not expedient.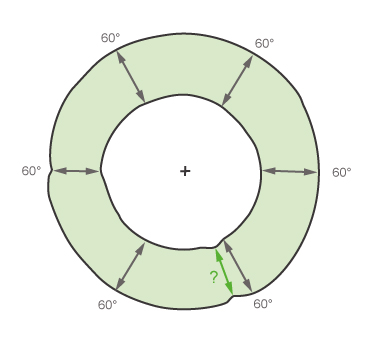 Manually, a standardized process is not possible, as every operator will select different wall thicknesses at different locations. Often with manual measuring devices with a rotational measuring table, it is standard to measure exactly at 60° without paying attention to local minima.


Filter angle of the VisioCablePro® software
With the measuring systems by VisioCablePro® and our measuring software, we can define a so called "Filter Angle". This filter angle defines the area around 60°, where a local minimum is to be detected. In other words, the software detects the 60° and checks back and forth for a local minimum wall with a defined value, e.g. ± 10°.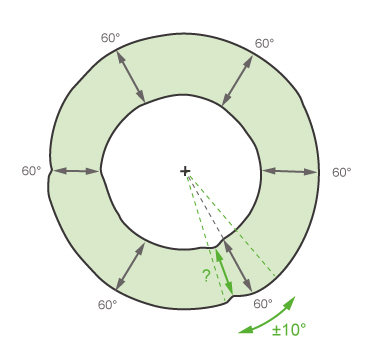 This of course has a large influence on the average wall thickness (tavg), the maximum of the minimum wall thicknesses (tmax) and thus, the concentricity. All further values, which are calculated from these walls will also be influenced. For example, the average wall thickness could actually be too low, however this was never noticed, as the thicker wall locations were measured.

The filter angle enables a standardized measuring procedure and additionally has a positive influence on the concentricity calculation of your products, as the difference between minimum and maximum wall becomes smaller (tmin - tmax * 100).
Below we have two measurements of one kind of cable. The first measurement was exactly at 60° and the second measurement was performed with a filter angle of 10°:


Value "Average Wall"
with exact 60° measurements
Value "Average Wall" with 10° filter angle –
local minima measurement
1
2.531 mm
2.232 mm
2
3.688 mm
3.585 mm
Value "Max. Wall"
with exact 60° measurements
Value "Max Wall" with 10° filter angle –
local minima measurement
1
3.278 mm
2.630 mm
2
3.890 mm
3.731 mm
Value "Concentricity"
with exact 60° measurements
Value "Concentricity" with 10° filter angle –
local minima measurement
1
57.314 %
71.547 %
2
85.809 %
89.474 %
The full reports can be found here:


As these measuring examples show, a filter angle has a very large influence on the values – there are differences of tenths of millimetres, which can become critical.

Our intelligent cable measuring system can help you perform standardized, operator-independent wall thickness measurements according to standards.
Should you have questions or do you need further information,
please reply to this email or call us at +49 (0)3681 / 455 19-0.

Contact to the team
Best regards
Your VisioCablePro
®
Team