Dear Ladies and Gentlemen,

In our previous newsletters we displayed, how our intelligent cable measuring systems can effectively assist you with standardised wall thickness measurements. Today we wish to provide you with a handy calculation tool, which enables you to quickly and easily calculate the return on investment (ROI) with our measuring systems.


Especially during economically more turbulent times, cost-saving measures are very important for companies. Would you like to know when an investment in a VisioCablePro® measuring device pays itself off? Then simply click on the following button to download our extended ROI calculator for free:


*To use the ROI Calculator (Excel), please open the file either over the browser via Excel-online or download the file and save it locally onto your PC. Open the file with Excel and enter your data into the respective fields. Alternately, you can send us your data and we will calculate the ROI for you.

With this tool, you can easily calculate the payback period of your new measuring device based on your raw material characteristics and logistical parameters.

You can choose between 3 different calculation methods:
Method 1 – Calculation based on your production characteristics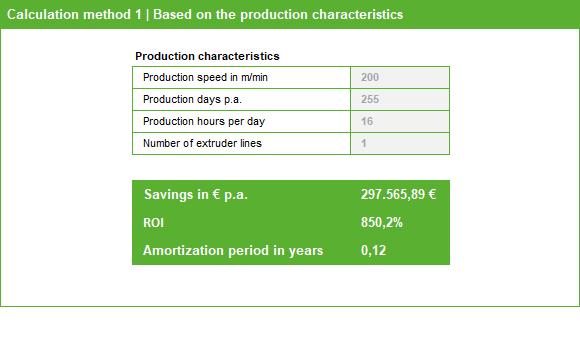 Method 2 – Calculation based on your order volume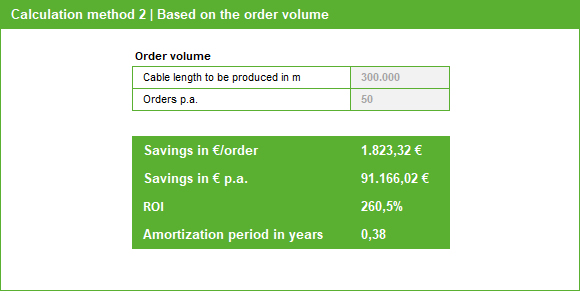 Method 3 – Calculation based on your material consumption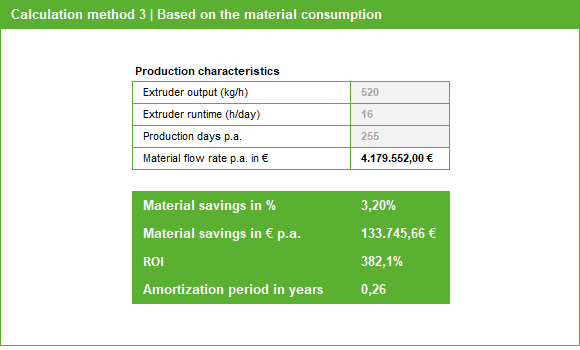 Depending on which data and information is currently available to you, you can select the suitable method.

As you might notice, we have already entered some realistic examples into the calculation tools for illustration purposes. These examples also display what has been confirmed by numerous customer experiences: The new cable measuring device often pays for itself within the first year.

Due to various influencing factors as well as measuring uncertainties, it is quite common within the cable industry to extrude slightly more material then necessary as a safety tolerance.
If this safety tolerance is - thanks to precise measuring technology - only reduced by 0.08 mm, which corresponds approximately to the average thickness of a human hair, you can already make considerable savings as in our illustrated examples.



In addition to our new ROI calculators, we would also like to draw your attention to our latest product catalogue version – V0819. You can either download it from our homepage or you can directly download it from the following button: